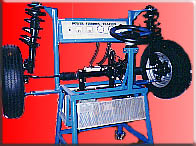 Power Steering
60-028
DATA TEKNIK
Mekanik
Dimensi:
* Panjang : 1700 mm
* Lebar : 1000 mm
* Tinggi : 1800 mm
Berat : 200 kg
Warna : Biru kombinasi
Bahan:
Stand : Pipa 1 inch
Komponen-komponen Teknik:
* Steering gear
* Reservoir
* Electric motor, 1,5 kw/220 V
Deskripsi:
* Trainer ini dapat dipergunakan untuk
mengidentifikasi fungsi dan cara kerja
sistem power steering.
* Trainer ini terdiri dari sistem suspensi
dan bagian depan dari kemudi.
* Semua komponen berfungsi
sebagaimana mestinya.
* Demonstrasi model ini dibuat dari
power steering mobil asli.
Paket ini meliputi:
* Fungsi dan cara kerja power steering.
* Pumpa hidrolik.
* Tekanan zat cair.
* Mekanikal kontrol tie rod dan arm.
Keistimewaan:
Cocok untuk kompetensi ketrampilan teknologi automotive kelas menengah.
Assesories:
Job sheet, lesson plan, dan wall chart dalam bahasa Indonesia.
Optional:
Training steering wheel (40 jam).
SPECIFICATION
Dimension:
* Length : 1500 mm
* Wide : 570 mm
* High : 1100 mm
Weight : 200 kg
Color: blue + combination
Technical Data:
* The unit consists of the complete front-end steering and suspension
system of a typical small passenger vehicle complete with the
power steering components. All components are operational and
must include: steering front and suspension steering linkages and
brake power steering pump and controls.
* An electric motor should drive the power steering pump via with
Amp meter.
* A resistance mechanism should be to provide demonstration of
steering resistance and a pressure gauge should be fitted to the
* Hydraulic hose. The unit with all components should be mounted into
a sturdy steel frame, which preserves the position of the
components as if they were mounted on a vehicle. Steel is to
painted with heavy-duty epoxy paint which is resistant to petrol,
diesel fuel and brake fluid.
Description:
* Many modern automobiles feature power steering in order to make
the vehicle easier to drive.
* The operable units are fully functional and are available either new
or used (Reconditioned).
* The operable units are ideal for demonstration purposes, dismantling
exercises, exhibits or replacement parts.
* This Trainer/ demonstration unit to be made from original automobile
part and show the function and operation of typical power system.
Topic of contents:
* Function and work of
* Hydraulic pump
* Regulated value and fluid pressure
* Mechanical control rich, tie rod and arm
The level competence of advance automotive technology (CHASSIS STREAM).
Accessories
Work sheet, lesson plan and wall chart are included In two language (English, Indonesia)
Optional:
Steering Wheel training (40 hours)