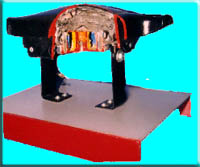 Model Kantong Udara
Air Bag
60-025
DATA TEKNIK
Mekanik
Dimensi:
* Panjang : 300 mm
* Lebar : 210 mm
* Tinggi : 190 mm
Berat : 20 kg
Warna : Biru
Bahan:
* Partikel
* Komponen
Komponen-komponen Teknik:
Satu unit air bag (Kantong udara )
Deskripsi:
* Untuk mengidentifikasi konstruksi kantong udara.
* Demonstrasi model ini dibuat dari air bag mobil asli.
Paket ini meliputi:
* Konsep keamanan pengemudi.
* Fungsi dan cara kerja detonator material explosion, pendingin
dan penyaring kantong udara.
* Diagram pengkabelan.
Keistimewaan:
Cocok untuk kompetensi ketrampilan teknologi automotive kelas menengah.
Assesories:
Job sheet, lesson plan, dan wall chart dalam bahasa Indonesia.
Optional:
Training Air Bag (40 jam).
SPECIFICATION
Dimension:
* Length : 300 mm
* Wide : 210 mm
* High : 190 mm
Weight : 20 kg
Color: blue + combination
Technical Data:
* Components : Air bag unit
* Safety fully protection
* Mounted on finished high quality wood
Description:
* Can be used for identification of air bag
construction
* Original part of air BAG passenger car to
expose it's function and work.
Topic of contents:
* Concept of safety driving protection
* Function and work of detonator, explosion
material, cooling and filters and air bag.
* Installation wiring diagram.
* The level competence of new advance
automotive technology.
Accessories:
Work sheet, lesson plan and wall chart are included In two language (English, Indonesia)
Optional:
Air bag training (40 hours)