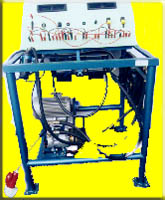 Trainer AC Mobil
Vehicle AC Trainer Stand
60-023
DATA TEKNIK
Mekanik
Dimensi:
* Panjang : 900 mm
* Lebar : 875 mm
* Tinggi : 1100 mm
Berat : 250 kg
Warna : Biru
Bahan:
Stand Pipa 1 inch
Sumber Arus:
220 VAC
Komponen-komponen Teknik:
* Kompressor 220 VAC/ 1 phase/ 50 Hz
* Evaporator dengan blower
* Condensor dengan kipas
* Filter/ drier/ thermostat, ammeter dan voltmeter
Deskripsi:
Untuk mengetahui konstruksi, pengoperasian dan petunjuk diagnosis serta perbaikan AC Mobil.
Demonstrasi model ini dibuat dari air conditioner mobil asli.
Paket ini meliputi:
* Fungsi dan cara kerja pengukuran tekanan rendah dan tinggi AC.
* Testing kebocoran.
* Diagram pengkabelan arus.
* Pengukuran temperatur penguapan.
Keistimewaan:
Cocok untuk kompetensi ketrampilan teknologi automotive kelas menengah.
Assesories:
Job sheet, lesson plan, dan wall chart dalam bahasa Indonesia.
Optional:
* Thermometer.
* Multimeter.
* Tester kebocoran.
* Training AC Mobil (80 jam).
SPECIFICATION
Dimension:
* Length : 300 mm
* Wide : 210 mm
* High : 280 mm
Weight : 20 kg
Color: blue + combination
Source Power:
220 VAC
Technical Data:
The trainer is to have all new AC components mounted on a bench type demonstration board :
* Compressor, driven by a 220 VAC/ 1-phase/ 50 Hz.
* Variable speed electric motor including 12 VDC transformer
for the AC unit.
* Evaporator with blower
* Condenser with fan
* Filter/ drier, thermostat, sight glasses fault valve, ammeter
and voltmeter.
Material of stand : Pipe diameter 1 inch
Description:
Designed for demonstration in construction, operation, instruction for diagnosis and repair of operating malfunctions.
Demonstration model is made from original automobile air condition components and visually exposed to make all measurement needs.
Topic of contents:
Function and work of air conditioning care measurement of low and high refrigerant pressure side
Testing of unleakage
Wiring diagram of current flow
Measurement of evaporator temperature
The level competence of advance automotive technology.
Accessories:
Work sheet, lesson plan and wall chart are included In two language (English, Indonesia)
Jumper 30 set
Optional:
* Low and high manometer
* Thermometer
* Multimeter
* Leakage tester
* Vehicle Air Conditioner training (80 hours)