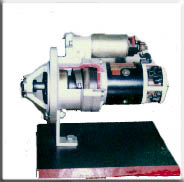 Model Potong Motor Starter
Starter Motor Trainer
60-019
DATA TEKNIK
Mekanik
Dimensi:
* Panjang : 300 mm
* Lebar : 250 mm
* Tinggi : 400 mm
Berat : 50 kg
Warna : Biru
Bahan:
Stand Pipa 1 inch
Komponen-komponen Teknik:
Motor starter asli yang dipotong pada bagian tertentu.
Deskripsi:
Trainer ini sebagai media untuk mengidentifikasi konstruksi, fungsi dan cara kerja motor starter.
Demonstrasi model ini dibuat dari starter motor mobil asli.
Paket ini meliputi:
* Fungsi dan cara kerja motor listrik.
* Mekanik pinion roda bebas.
Keistimewaan :
Cocok untuk kompetensi ketrampilan teknologi kelistrikan dasar.
Assesories:
Job sheet, lesson plan dalam bahasa Indonesia
Optional:
Training tune up sepeda motor (40 jam)
SPECIFICATION
Dimension:
* Length : 300 mm
* Wide : 250 mm
* High : 400 mm
Weight : 50 kg
Color : blue + combination
Technical Data:
* Original starter motor for a Toyota 4 K or 5 K
* Idle load current 100 A
* Full load current 300 A
* Carefully sectioned and painted
* Free wheel pinion gear
* Stator and rotor, brush
Description:
For identification of construction and work system at starter motor.

Demonstration model is to be made from an original automobile starter motor.

Starter is to be completely and carefully sectioned showing all key internal parts.

Sectioned areas should be painted and color-coded for easy identification. Unit is to be mounted on melamine coated wooden base with rubber edging the sectioned item is to be fully functional and electrical connections should be brought out to 4 mm captive head terminals mounted on a small plate to the base.

Original 12 v ELECTRIC starter carefully sectioned and in different color painted to expose it's work and function.
Topic:
* Function and work of Electrical motor
* Mechanical of free wheel pinion
* The level of competence basic electrical engine
Accessories:
Work sheet, lesson plan and wall chart are included In two language (English, Indonesia)
Optional:
Starter motor training (40 hours)