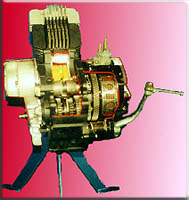 Model Belah Motor 2 Tak
Two Stroke Engine Model
60-017
DATA TEKNIK
Mekanik
Dimensi:
* Panjang : 400 mm
* Lebar : 400 mm
* Tinggi : 500 mm
Berat : 50 kg
Warna : Biru
Bahan:
Stand Pipa 1 inch
Komponen-komponen Teknik:
* Mesin : 2 tak
* Pengapian : konvensional
Deskripsi:
* Trainer ini dapat dipergunakan untuk mengidentifikasi
konstruksi, fungsi, cara kerja mesin dan mengenal
komponen komponen motor 2 tak.
* Motor 2-tak ini dipotong perbagian untuk menunjukkan
kerja tiap bagian.
Paket ini meliputi:
Fungsi dan cara kerja sistem bahan bakar, sistem pengapian, sistem kontrol kecepatan, sistem mekanisme katup, sistem pengisian minyak, sistem pendingin, sistem starting dan sistem pembuangan gas.
Keistimewaan:
Cocok untuk kompetensi ketrampilan teknologi sepeda motor dasar.
Assesories:
Job sheet, lesson plan dalam bahasa Indonesia
Optional:
Training tune up sepeda motor (40 jam)
SPECIFICATION
Dimension:
* Length : 400 mm
* Wide : 400 mm
* High : 500 mm
Weight : 50 kg
Color : blue + combination
Technical Data:
* It is a new engine mounted on a special frame,
includes all components necessary for operation
made from an original motorcycle and it's to be
completely sectioned showing all key internal parts.
* Sectioned areas should be painted and color-coded
for easy identification.
* Engine : Two stroke
* Ignition : Conventional magnet
* The frame is mounted on a rotating stand that allows
360 degrees rotation and has a large base.
Description:
* For identification of construction and engine work
system including engine mechanism, fuel, and
electrical of principle two stroke engine.
* Two stroke bicycle engine perfectly sectioned and in
different color painted to expose work of each part.
* The package covers the following topics : fuel
system, ignition system, speed control system, valve
mechanism system, lubrication system, cooling
system, starting system and exhaust system.
* The level competence of basic bicycle technology
Accessories:
Work sheet, lesson plan and wall chart are included In two language (English, Indonesia)
Optional:
Tune up training (40 hours)