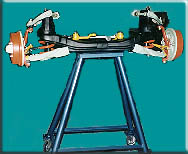 Model Suspensi Independen Independent Gear Model
60-015
DATA TEKNIK
Mekanik
Dimensi:
* Panjang : 1500 mm
* Lebar : 570 mm
* Tinggi : 1100 mm
Berat : 500 kg
Warna : Biru
Bahan:
Stand : Pipa 1 inch
Komponen-komponen Teknik:
Suspensi depan mobil lengkap
Deskripsi:
Model Independen suspension ini dapat dipergunakan untuk mengidentifikasi konstruksi, fungsi, cara kerja serta mengenal komponen independen suspension.
Paket ini meliputi:
* Fungsi dan cara kerja suspension tipe
MAC PHERSON atau WISH BON.
* Pengukuran dan pengetesan ball joint.
Keistimewaan:
Cocok untuk kompetensi ketrampilan otomotive dasar (Mechanik I).
Assesories:
* Job sheet, lesson plan dalam bahasa
Indonesia
* Battery
Optional:
Training sistem suspensi tipe strut (40 jam)
SPECIFICATION
Dimension:
* Length : 1500 mm
* Wide : 570 mm
* High : 1100 mm
Weight : 500 kg
Color: blue + combination
Technical Data:
Complete front-end unit of a vehicle that is ideal for demonstrating the operation and interaction of the steering and suspension mechanism.
Through use of this trainer student may be exposed to the function of the stabilizer, shock absorber, and steering linkage suspension system.
Units are reconditioned so as all parts are fully operable and have been cleaned and painted.
Easy mobility ( On 4 wheels )
Description:
* For identification of construction, function, work system of
suspension.
* Demonstration model is made from original suspension, cleaned and
painted that was cut in parts so make easier to identify.
Topic of contents:
* Function and work of mac pherson and wish bon suspension
* Measurement and test of ball joint
* The level of competence of basic automotive skill
(CHASSIS STREAM)
Accessories:
* Work sheet, lesson plan and wall chart are included In two language
(English, Indonesia)
Optional:
* Suspension training (40 hours)