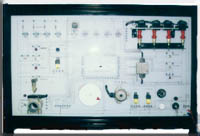 Trainer Sistim Pengapian Distributorless
Distributorless Ignition System
60-012
DATA TEKNIK
Mekanik
Dimensi:
* Panjang :1000 mm
* Lebar : 200 mm
* Tinggi :1200 mm
Berat : 200 kg
Warna : Biru
Bahan:
* Aluminium profile 1,5 mm
* Acrylic 3 mm
Sumber Arus:
Battery 12 V/ 60 AH
Komponen-komponen Teknis:
* Coil dan kontrol unit
* Busi
* Motor listrik
* Kabel busi
* Kunci kontak
* Kotak sekring
* Kabel penghubung
* Panel Instrumen : Volt meter, Amp meter
DESKRIPSI
Sebagai media pelatihan tentang diagram rangkaian sistem managemen mesin dan (dis ) assembly pada kelistrikan mobil.
Trainer ini juga dibuat untuk mengenal konstruksi, fungsi dan cara kerjanya.
Paket ini meliputi:
* Fungsi dan cara kerja sistem managemen mesin.
* Pengukuran sensor, aktuator, dan kode malfunction.
* Pemecahan masalah.
Keistimewaan:
Cocok untuk kompetensi ketrampilan otomotive kelas menengah (Mechanik II, supervisor ).
Assesories:
Job sheet, lesson plan dalam bahasa Indonesia
Optional:
* Vakum pump
* Dwell tester
* Tacho meter
* Timing light
* Training sistem pengapian TCI-Inductive (80 jam)
SPECIFICATION
Dimension:
* Length : 1000 mm
* Wide : 200 mm
* High : 1200 mm
Weight : 200 kg
Color: brown + combination
Source Power:
Battery 12 Volt/ 40 AH
Technical Data:
* Unit engine management system
* Stand from profile aluminum, acrylic.
DESCRIPTION
For identification of construction, function, work system, dis assembly at automobile electrical and engine management system.
This trainer is original part of all motronic component are showed on white acrylic background.
Topic of contents:
* Function and work of engine
management system
* Measurement of sensors, actuators
malfunction code
* Trouble shooting and solving
* The level of competence of new
advance automotive technology (new
stream) (ENGINE STREAM)
Accessories:
* Battery
* Work sheet, lesson plan and wall chart
are included In two language (English,
Indonesia)
Optional:
* Engine management tester
* Distributorless Ignition Training (80 hours)