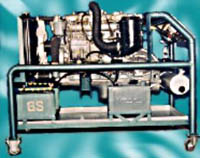 Trainer Mesin Diesel
Diesel Engine Trainer Stand
60-003
DATA TEKNIK
Mekanik:
Dimensi:
* Panjang : 1660 mm
* Lebar : 749 mm
* Tinggi : 1240 mm
Berat : 700 kg
Warna : Biru
Bahan Stand:
* Pipa gas 1,5 inch
* Roda Caster 4 inch
Sumber Tenaga:
Battery 12 V/ 60 AH
Komponen-komponen Teknis:
* Mesin: Mesin Diesel Tipe sebaris 4 silinder, 4 tak,
2000 cc.
* Daya: mak 50kw/ 6000 rpm
* Panel Instrumen: Kunci kontak, Ampere meter,
Lampu kontrol oli dan temperatur mesin.
* Sistim Pendinginan radiator
* Sistim bahan bakar dengan tangki 5 liter
Deskripsi:
* Trainer Diesel tanpa transmisi dapat dipergunakan
untuk mengidentifikasi konstruksi, fungsi dan cara
kerja serta komponen kendaraan.
* Dapat juga dipergunakan untuk praktik diagnosa,
pembongkaran, pemeriksaan/ pengukuran,
perakitan dan pengujian sistim serta komponen.
* Konstruksi ini sangat ideal dan praktis untuk alat
bantu pengajaran pengoperasian, mencari
kesalahan, dan pemecahannya.
* Paket ini meliputi modul proses pembakaran,
bentuk ruang pembakaran, bentuk dan sirkuit
pembakaran busi, sistem bahan bakar, tangki
bahan bakar, sistem pengapian, filter bahan bakar,
dan distributor, coil, pengukuran pengapian
dengan dwell timing, mencari kesalahan, dan
pemecahan masalah.
Keistimewaan:
* Praktek tune up mesin diesel
* Cocok untuk kompetensi dasar automotive (Engine
Stream)
Assesories:
* Job sheet, lesson plan dalam bahasa Indonesia.
* Whall chart.
Optional:
* Set injektor (1 set)
* Timing light injeksi dan speed tester
* Smoke meter
* Tool set
* Training injeksi diesel (80 jam)
SPECIFICATION
Dimension:
* Length : 1660 mm
* Wide : 740 mm
* High : 1240 mm
Weight : 700 kgs
Color: blue + combination
Source Power:
Battery 12 Volt/ 70 AH
Technical Data:
* Engine: four cylinder 2000-2300 CC, four stroke diesel
engine, water-cooled, Type in line.
* Instrument panel: Key type ignition switch, ampere meter,
and oil control lamp, was temperature gauge.
* Sub-system: cooling system (radiator), fuel system with
5 liter fuels tank, exhaust system 70 AH battery with
cable.
* On models is fully operable. The engine has four large
Strong wheels for mobility and two of the wheels have
locks in order to keep the engine stationary during
operation.
* The rebuilt engines have been restored to "like new"
condition, and are guaranteed to give excellent
performance.
* The reconditioned engines offer good value to schools
as the cost is less and the principles of measuring part
for wear is more easily demonstrated, reconditioned
engines are guaranteed to be in good running condition
Description:
* The Diesel Engine live without Transmission for
identification of constructions, work system and vehicle
components, practice of diagnosis, (dis) assembly,
testing fuel system, pre-heater system and this
construction for the engine is ideal for teaching of engine
operation, fault finding and trouble shooting.
* The trainer is of a modular design so that it can
accommodate any of the engines including three, four,
six and eight cylinder engines.
* Engines are provided in good condition and have been
thoroughly cleaned and painted.
* The package covers the following topics: combustion
process, types of combustion chambers, types and
circuits of glow plugs, fuel systems, fuel tanks, low
pressure fuel supply pumps, fuel filters, injection pumps,
governors, injectors, trouble shooting and correction.
* This trainer useful for basic automotive skill training
(ENGINE STREAM).
Accessories:
Lesson plan, job sheet and wall chart are included in two language (Indonesia, English)
Optional:
* Set of injector element 1 set
* Injection timing light and speed tester 1 set
* Smoke meter
* Automotive Diesel tune up (tool set)
* Diesel Injection training 80 hours