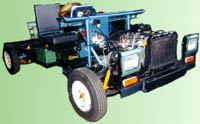 Trainer Mobil Instruksi
Car Trainer Stand
60-001
DATA TEKNIK
Mekanik
Dimensi:
* Panjang : 4320 mm
* Lebar : 1440.mm
* Tinggi : 1370 mm
Berat : 1,5 ton
Warna : Hitam + Kombinasi
Bahan:
Mobil Toyota Kijang 3K tanpa body
Sumber Tenaga:
Battery 12 Volt/ 40 AH
Komponen-komponen Teknis:
* Engine : 4 silinder 4 tak, 1300-1500 CC
* Transmisi : Manual 4 kecepatan
* Suspensi:
Depan : Independent
Belakang : Aksel Rigid
* Sistim Kelistrikan: Lengkap dengan komponen-komponen sistim
kelistrikan mobil.
* Sistim Pengapian: Lengkap dengan komponen-komponen sistim
pengapian.
* Sistim Pengisian Alternator: Lengkap dengan komponen-komponen
sistim pengisian.
Deskripsi:
Trainer ini sangat tepat digunakan untuk mengidentifikasi konstruksi, cara kerja sistim, serta komponen komponen kendaraan.
Trainer ini dapat juga dipergunakan untuk praktik diagnosis, pembongkaran, pemeriksaan/pengukuran, perakitan dan pengujian sistim serta komponen komponen kendaraan.
Trainer mobil tanpa body ini disajikan dalam kondisi yang bagus dan dalam keadaan sudah di cat.
Paket ini meliputi modul proses pembakaran, ruang pembakaran, sistem bahan bakar, tangki bahan bakar, sistem pengapian, filter bahan bakar, dan sistem chassis.
Keistimewaan:
* Dengan trainer ini siswa dapat nilai tambah, untuk dapat belajar
mengemudi.
* Cocok untuk kompetensi
* Teknik dasar automotive
* Teknologi Automotive tingkat menengah (Mekanik II, III, dan
supervisor)
Assesories:
* Job sheet, lesson plan dalam bahasa Indonesia.
* Whall chart.
Optional:
* Engine analyser (Speed, Dwell, Timing Ignition)
* Multimeter
* Tool set
* Training Tune up ( 80 jam)
SPECIFICATION
Dimension:
* Length : 4320 mm
* Wide : 1440 mm
* High : 1370 mm
Weight : 1,5 ton
Color : black + combination
Substance:
3K engine of Toyota Kijang without body
Source Power:
Battery 12 Volt/ 40 AH
Technical Data:
* Engine : four cylinder, four stroke.
* Transmission : manual, 4 speed
* Suspension : axle type
* The trainer completes with all vehicle
components including chassis of
vehicle.
* The trainer without body.
Description:
For identification of construction, work system and vehicle components. Also useful for practice of diagnosis, (dis) assembly, testing of system and vehicle components.
The gasoline car live with out body, that are provided in good condition and have been painted.
The package covers the following topics : combustion process, types of combustion chambers, fuel systems, fuel tanks, fuel filters, ignition system, chassis system, trouble shooting and correction.
The trainer is suitable for competence of :
* Basic automotive (skill of mechanic)
* Advance automotive technology
(mechanic II, III and supervisor)
* Automotive in general
Accessories:
* Lab Manual
* Lesson plan, Job sheet and wall chart are included in two language (Indonesia, English)
Optional:
* Engine analyzer (speed, dwell, timing
ignition)
* Multimeter
* Automotive ( Tune Up ) Tool set
* Tune Up training 80 hours