52-003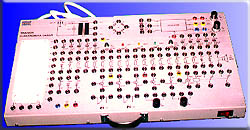 Trainer Elektronika Dasar
Basic Electronic Trainer
Produk Lainnya
Other Products

DATA TEKNIK
Dimensi:
* Panjang : 520 mm
* Lebar : 280 mm
* Tinggi : 35 mm

Berat: 5 kg

Bahan kotak:
Aluminium : 1,5 mm

Warna kotak:
* Tutup atas : abu - abu
* Alas bawah : merah

Komponen-komponen Teknis:
Komponen catu daya:
* Transformator 220 V / 2x18 V 1bh
* Dioda bridge 1 A 1bh
* Kapasitor 2200 uF 2bh
* Regulator (LM317 dan LM 37) 2bh

Komponen Pasif:
* Resistor 220 W - 100 KW 15 bh
* Potensiometer 100 KW 2 bh
* Kapasitor (22 uF - 470 uF) 4 bh
* Jumper indikator 12 V/15 mW1 bh
* Loud speaker 8 W / 0,25 W 1bh
* Relay 12 V 1 bh

Komponen Aktif:
* Dioda penyearah 1 A 2 bh
* Dioda zener (3V6, 6V8, 12V) 3 bh
* Transistor BC 547 2 bh
* Transistor BD 137 & BD 138 2 bh
* SCR fir 3D 1 bh
* TRIAC Q4004 1 bh

Deskripsi:
Trainer Elektronika Dasar ini sangat tepat untuk alat bantu pelatihan sekolah dan training center industri bagi elektriker serta elektroniker.

Keistimewaan:
Komponen yang terpasang:
Lebih 50 komponen yang selalu dipakai dalam setiap rangkaian aplikasi. Memiliki ± 150 titik sambung dan 1 papan percobaan dan catu daya.

Kemampuan kerja:
Untuk memperjelas fungsi dan prinsip kerja dari komponen aktif, trainer ini sangat baik terutama bagi pemula yang ingin mempelajari elektronika.

Dengan trainer ini sangat mudah dan cepat untuk membangun dasar-dasar rangkaian elektronika seperti : Transistor sebagai saklar Pengontrol daya sederhana

Assesories:
* Petunjuk operasional
* Set kabel
25 cm 20 bj
50 cm 8 bj
75 cm 2 bj

Catu Daya:
Masukan:
* Tegangan 220 - 240 VAC
* Arus 0,5 Ampere
Keluaran:
* Tegangan ± 2 …± 15 VDC
* Arus max. 1.0 A

Optional:
* Avometer
* CRO 20 MHz 2 trace
* Training Elektronika Dasar (40 jam)

SPECIFICATION
Dimension:
* Long ( side Up) : 520 mm
* Wide ( side up ) : 280 mm
* High (side front ) : 35 mm
* High ( side back ) : 90 mm
Substance:
Box : Aluminum 1,5 mm
Color:
* Front Cover : silver
* Back Cover : red
Power Supply :
Input :
* Voltage : 220 VAC
* Current : 0,5 A
Output :
* Voltage: plus minus 2 plus minus 15 VDC
* Max Current : 1.0 A
This trainer consists of the following modules:
Power Supply
* Transformator 220V/ 2x18V 1 pc
* Diode bridge 1 A 1 PC
* Capacitor 2200 uF 2 PCs
* Regulator 1 PC
Passive Component:
* Resistor 220 W -100 K W 15 PCs
* Potentiometer 100 k Ohm 2 PCs
* Capacitor 22 uF - 470 uF 4 PCs
* Indicator Jumper 12 V / 15 m Wh 1
* Load Speaker 8 W / 0,25 W 1 PC
* Relay 12 V 1 PC
Active Component:
* Diode Zener (3V6, 6V8,12V) 3 PCs
* Transistor BC 547 2 PCs
* Transistor BD 137 & BD 138 2 PCs
* SCR fir 3D 1 PC
* TRIAC Q4004 1 PC
Description:
Basic Electronics Trainer as teaching aids at technical school and industrial training center for electricians.
Features:
* This package is suitable for demonstration of
how various components of Basic Electronics
are connected and provides an opportunity for
students to practice themselves.
* All circuit experiments are easy to set up on
multipurpose protoboard.
* This package is educational in itself, students
can quickly learn and identify item names.
Installed Components:
Each application installation consists of 50 components. And there are ± 150 connected point, test board, and power supply.
Work Capabilities:
To clarify the function and work system of the active components, this trainer is very useful, especially for the beginner who wants to learn electronics.
By this trainer to develop the basic of electronics installation is very simple and fast, such as, transistor as a simple load controller switch.
Accessories:
* Experimental manual instruction.
Cable set :
* 25 cm 20 PCs
* 50 cm 8 PCs
* 75 cm 2 PCs